Hal'Sted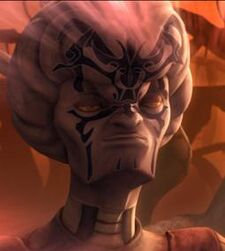 Statistics
Gender | Male
Species | Siniteen
Biography
Edit
Hal'Sted was a Siniteen criminal who took Asajj Ventress in as his own from her rightfull mother on Dathomir. The Siniteen took Ventress to Rattatak where she was raised. He was later killed by a gang of thugs, and later replaced as a mentor by Ky Narec.
Appearances
Edit
Ad blocker interference detected!
Wikia is a free-to-use site that makes money from advertising. We have a modified experience for viewers using ad blockers

Wikia is not accessible if you've made further modifications. Remove the custom ad blocker rule(s) and the page will load as expected.