Ione Marcy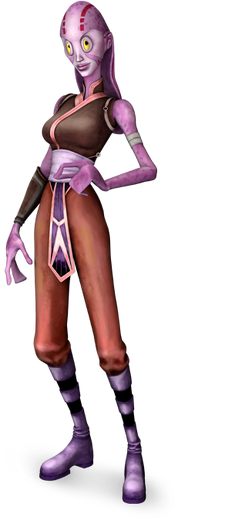 Statistics
Gender | Female
Species | Unknown
Affiliation | Criminal
Voiced by  | Meredith Salenger
Marcy was the crime partner to Terellian Jango Jumper Cassie Cryar. She assisted her and schemed the death of Knack Movers, by poisoning him. She then posed as an innocent bystander when Ahsoka Tano and Terra Sinube arrived in Movers' apartment. However, Ione could not entirely mask her fear, and Sinube caught on, finding out that she was the one who had murdered Knack. Before Sinube could react though, Marcy ran out on him and met with Cryar, not knowing that Sinube had planted a tracking beacon on her. She was later caught by Police Droids at the Hovertrain station.
| | | |
| --- | --- | --- |
| | Please add at least one image using the parameter "image1" when using this template. | |
Ad blocker interference detected!
Wikia is a free-to-use site that makes money from advertising. We have a modified experience for viewers using ad blockers

Wikia is not accessible if you've made further modifications. Remove the custom ad blocker rule(s) and the page will load as expected.