Togruta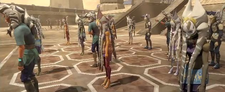 The Togruta were carnivorous Humanoids, from the planet Shili. They had sharp teeth, usually orange-red skin color and three headtails or "lekku". Togruras usually hunt in packs to bring down their prey, and almost always band together. Some Togrutans were force sensitive such as Shaak Ti or Ahsoka Tano. A Togruta's montrals grow overtime as they age. Their montrals were known to be hollow, as they could detect space ultrasonically, giving them clear advantages on the battlefield. This was useful for some, such as Ti or Ahsoka. Sometime during the clone wars, the Togrutans inhabiting Shili were enslaved, much like the twi'lek race.
Appearances
Edit
Ad blocker interference detected!
Wikia is a free-to-use site that makes money from advertising. We have a modified experience for viewers using ad blockers

Wikia is not accessible if you've made further modifications. Remove the custom ad blocker rule(s) and the page will load as expected.